Jonah Ward
Artist Jonah Ward (b. August 31, 1984) creates works of art that, in their most literal form, are compellingly aesthetic; in their most metaphorical, they are a testament to our always relevant interaction with the natural world.

Jonah's original and most prevalent series of work are his Glass Burned Panels, composed of panels of wood stamped with what could be tar-like paint and printed with abstract designs and meanderings. Upon closer inspection, the different woods with their different grains, colors, and textures—are scarred with burns: what is left over when Jonah drips, ladles, presses, cools, and peels molten glass from them. The final image essentially becomes a drawing made with glass.

Through his art he continues to cultivate his dialogue with nature. While requiring sustained physical interaction with natural materials, Jonah's works are also paradoxically devoid of his literal touch or imprint. He acts more as a facilitator harnessing natural processes and phenomena, while also according them their proper respect for their capacity for both incommensurable beauty and destruction.
Biography:

1984
• Born in Willits, CA, USA

2006
• BFA from California College of Arts and Crafts, Oakland, CA

Selected Solo Exhibitions:

2013
• "Bound by Structure," Moshin Vineyards, Healdsburg, CA

2012
• "Textured Paintings," 12 Gallagher Lane, San Francisco, CA
• "Bound by Structure," The Dome at Rockwall Wine Co., Alameda, CA

Selected Group Exhibitions:

2015
• 3rd Clay and Glass Biennial, City of Brea Art Gallery, Brea, CA

2014
• 2014 International Juried Art Show, Dab Art HUD Gallery, Ventura, CA
• "Water Work" In Solution Symposium Exhibition, California College of the Arts, San Francisco, CA
• 29th Annual National Juried Fine Art Show, Louisville Center for the Arts, Louisville, CO
• "From the Earth", Tubac Center for the Arts, Tubac, AZ

2013
• Scope Miami group exhibition with Reverie Arts, Miami Beach, FL

2012
• CCA Glass Alumni Exhibition Oliver Art Center, Oakland, CA
• California Contributions: 50 Years of Studio Glass The Crucible, Oakland, CA

2011
• 12 Gallagher Lane, San Francisco, CA
• La Galleria at Esperanza - An Auberge Resort, Cabo San Lucas, Mexico

2010
• 12 Gallagher Lane, San Francisco, CA
• SFCVB/ARTSPAN, San Francisco, CA
• Quicksilver Mine Company, Forestville, CA

2009
• "Where Are We Now," Willits Center for the Arts, Willits, CA

2006
• "Read Between the Lines," California College of the Arts, Oakland, CA

2005
• "The Weight of the World," Public Glass, San Francisco, CA

Awards:

2014
• First place in paper category at "From the Earth" show at Tubac Center for the Arts, Tubac, AZ

Public Demonstrations:

2012
• Live hot shop demonstration - 50th Anniversary of the Studio Glass Movement in the U.S. - The Crucible, Oakland, CA

2011
• Live hot shop demonstration - Glow Glass Studio, Oakland, CA

Philanthropic:

2014
• Fire and Light Art Auction Benefit at The Crucible, Oakland, CA

2012
• Public Glass' 8th Annual Benefit Auction, San Francisco, CA
• CulinART Benefit for the Wright House Wellness Center, Austin, TX

2011
• 5th Annual Art for Aids Auction benefiting the UCSF AIDS Health Project, San Francisco, CA

2010
• 12th Annual amfAR San Francisco Gala, San Francisco, CA
• "Pieces of Heaven", The Art of Elysium benefit auction, West Hollywood, CA

2009
• Rancho Santa Fe Community Center benefit Auction, Rancho Santa Fe, CA
• "Pieces of Heaven", The Art of Elysium Benefit Auction, Beverly Hills, CA

Press Highlights:

2015
• Jonah's "Specimens" included on cover of Dwell magazine April 2015 edition

2014
• Jonah's artwork selected for permanent display at the first ever Irish Whiskey Museum in Dublin, Ireland
• Jonah's artwork included in an article on inhabitat.com, a design weblog

2013
• Jonah featured on the cover and inside story in Interiors and Sources Magazine's November issue
• Jonah mentioned as an Artist to Watch by Jeffery Beers International LLC in their summer newsletter
• Jonah Ward's artwork selected to be a permanent part of the renovation of the Restaurant at Meadowood's private dinning room, St. Helena, CA

2012
• Jonah Ward's artwork selected to be a permanent part of the renovation at The Restaurant at Meadowood's main dinning room, St. Helena, CA
• Jonah Ward appears on EmptyKingdom.com as a Featured Artist
• Jonah Ward: Sparking a Process That Burns - Featured Article on CCA.edu and alumni newsletter - link
• Jonah's Burning Water No. 4 appears in San Francisco Chronicle and SFGate.com
• Jonah's Burnt Panel No. 78 appears in San Francisco Chronicle's Style section

2011
• Jonah Ward asked to give a presentation to an incoming class of freshman at his alma mater, California College of the Arts
• Jonah Ward nominated as one of 20 finalists in 7x7's Hot 20 Under (and over) 40 reader's choice contest
• Jonah Ward's artwork selected for 15th Annual Art for Aids Auction benefiting the UCSF AIDS Health Project Gala in September 2011. Jury chaired by DeWitt Cheng
• Jonah selected to present his process at San Francisco architecture firm Bohlin, Cywinski, Jackson's annual Talk 20 event
• Jonah Ward selected as part of extensive renovation at Esperanza, Cabo San Lucas, Mexico - An Auberge Resort

2010
• California Home + Design: Jonah Ward appears in November/December issue with a feature "profiles in the studio"
• JAL/Skyward Magazine: Jonah Ward appears with 12 Gallagher Lane in a special feature about San Francisco
• 7x7 Magazine: Emerging Bay Area Artist Jonah Ward to Unveil New Works @ 12 Gallagher Lane
• Jonah Ward Selected as First Artist in 12 Gallagher Lane's Visiting Artist Program
• Jonah Ward Attends Heaven Gala and "Pieces of Heaven" auction in Beverly Hills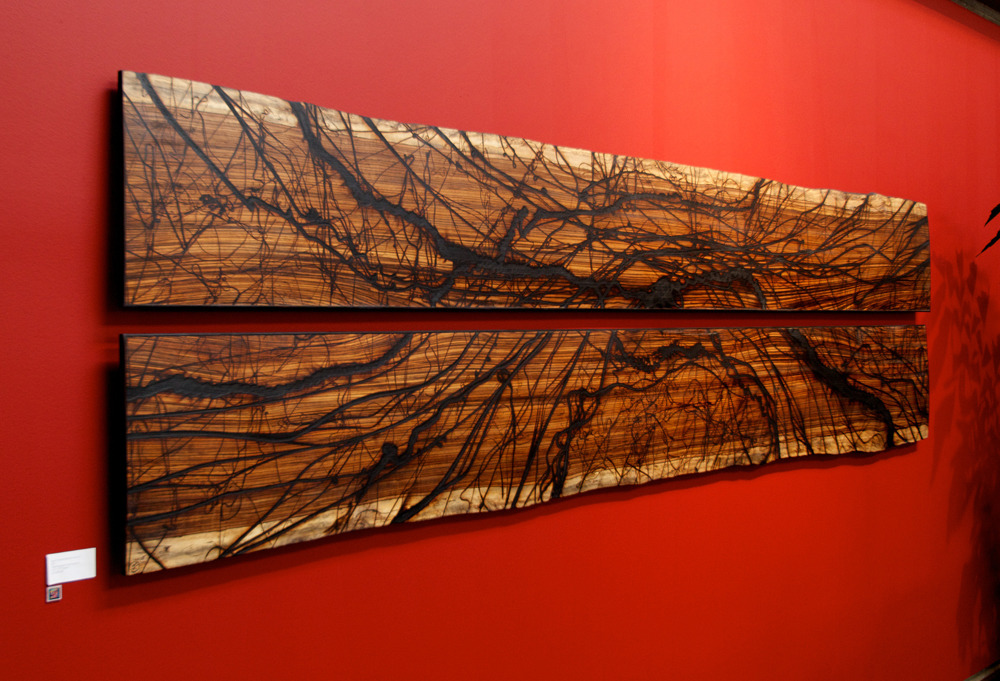 Burnt Panel Diptych No. 31
132" x 17" each, Glass Burned Zebrawood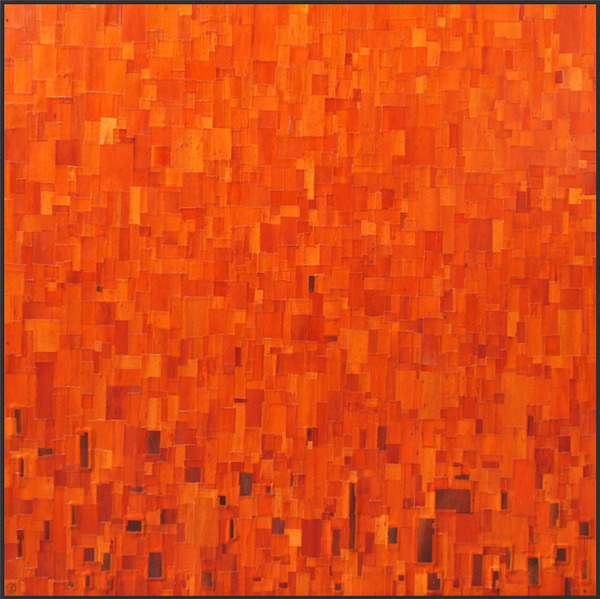 Textured 'Painting' Bark No. 8
24" x 24", Madrone tree bark on wood
Burnt Panel No. 84 Frottage
17" x 24", Graphite on Mulberry Paper
Burnt Panel No. 84
7" x 18", Glass Burned Holly