Robert Minervini
Robert Minervini (b. 1981, Secaucus, New Jersey, USA) is an artist who examines spatial environments and notions of utopia in large­scale, multi­layered acrylic works. Through dystopian cityscapes, landscapes, and floral still life arrangements, his work addresses the ecological impact of humanity on the landscape.
He received his MFA from the San Francisco Art Institute, and his BFA from Tyler School of Art. His work has been exhibited nationally, including solo shows with Marine Contemporary, Electric Works, Eleanor Harwood Gallery, a two­person exhibition with Johansson Projects, Littman Gallery, and group exhibitions with Waterhouse and Dodd, Schneider Museum of Art, Yerba Buena Center for the Arts, the Bedford Gallery, the The Brooklyn Historical Society, and the San Francisco Arts Commission Gallery. He is a recipient of the Murphy and Cadogan Fellowship by the San Francisco Foundation, the Edwin Austin Abbey Mural Fellowship by the National Academy of Fine Arts, and the Carmela Corso Scholarship by Tyler School of Art. He has been a resident artist at the Bemis Center for Contemporary Arts, the Headlands Center of the Arts, the Vermont Studio Center. His art has been published in New American Paintings (No. 91 and No. 109), Beautiful Decay, and Mural Art: Large Scale Art from Walls around the World. Minervini's work has been reviewed in the LA Times, Modern Painters, San Francisco Chronicle, Art ltd., and featured in ArtWeek LA, 7x7 Magazine, and The Huffington Post. In 2012, his work The Fruitful Lands of Multitudes of Worlds (Behind the Surface of a Mirror) was acquired by the Museum of Contemporary Art San Diego. He currently lives in Oakland and works in San Francisco.
"Invisible Inane"
48" x 72", Acrylic and oil on canvas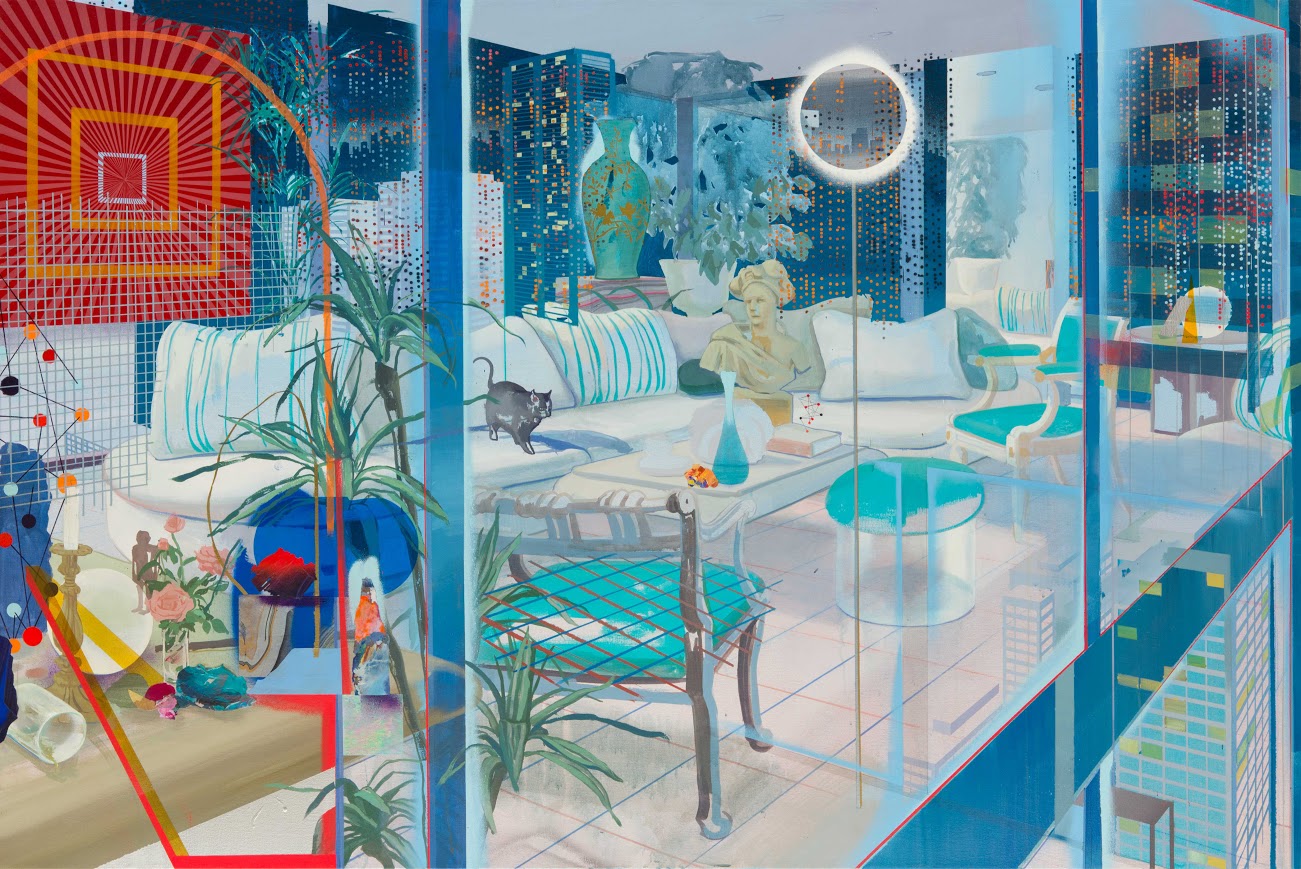 "1% Efficiency"
48" x 72", Acrylic on canvas